What is Geology?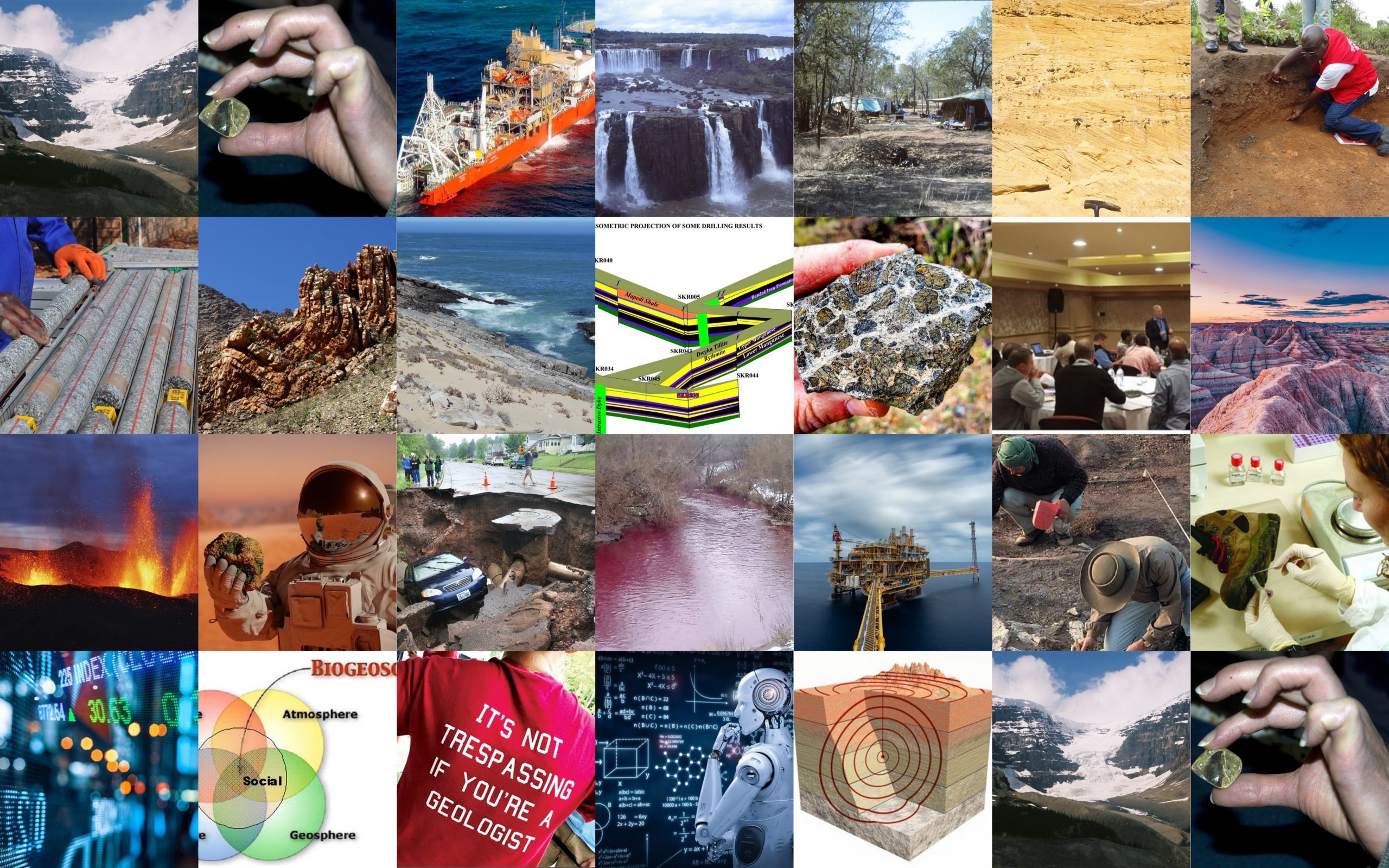 "Geology – the study of the solid earth and the processes by which it evolves. Nowadays many geologists also study solid earth interactions with the hydrosphere, the atmosphere, and the biosphere, and can be generically termed earth scientists. With our exploration of the moon and Mars, and the recognition that Earth has been struck by meteorites in the past, geology also plays an important role in planetary science."
What do geologists do?
In today's world, persons who study geology at college or university level usually follow one of two career paths upon graduation: one where their education provides them with a geocentric perspective with which to participate in other disciplines and another one where their geological education is directly applied.
In the first case, persons usually only study geology for a short time but that introduction provides them with a mindset about the relevance of the earth with which to pursue whatever career they choose. Almost anyone will benefit throughout their lives from a basic understanding of how the earth works. In the second case, to which this brochure is directed, geologists generally become professional explorers for natural resources (exploration geologists) and/or mineral resources. Such professional work either for companies or increasingly work for themselves as consultants. A limited number of geologists become financial analysts, environmentalists and even get involved in ecotourism. Only a small percentage of geology graduates become educators and researchers.
What are typical career paths for professional geologists
It is not unusual for geologists to change career directions several times in their lives. Furthermore, no matter what career a geologist follows, he or she is likely to move a great deal both within South Africa and around the world. Geologists become cosmopolitan beings and relish the changing environments in which they work.
For a geologist planning a career in the natural resource, finance, and environmental industries, a broad based, 4 year or Honors degree is normally necessary for entry. Once in the industrial environment, opportunities generally exist for persons to continue their education while advancing within the company. This continuing education is often company sponsored and occurs through in-house training courses and training at colleges and universities. It is not uncommon for geologists to obtain MSc, MBA and even PhD degrees while employed in industry.
At some point, usually within five to fifteen years of starting employment, many geologists working for companies decide to become consultants and offer their specialist geological expertise on the open market. Some even become entrepreneurs and start their own consulting or natural resource companies and employ other geologists.
Persons wishing to pursue a career in research or tertiary education must spent significantly more time acquiring formal education. A PhD degree is generally required, and post-doctoral experience is increasingly necessary to secure an adequate position. University-based geologists are involved in both teaching of undergraduate's students and guidance of postgraduates. They are also expected to devote a significant component of their time to research but are usually free to do some consulting work.
The mining pipeline requires input from geologists from exploration, through mining (opencast and underground) all the way to investment. Just as important as industry applications, the geosciences would never progress without the support of academia – both research and teaching branches). Changing priorities in the global minerals industry has resulted in the emergence of more socially relevant branches of geoscience such as geoethics, environmental geology, biogeoscience, forensic geology and medical geology. Advances in AI and technology have also resulted in the proliferation of specialization in Big Data Analysis and Machine Learning. And, as the world progresses deeper into the 21st century, no doubt the minerals industry will evolve even more and new career varieties will evolve, many of which do not even exist today.
The geoscience field of practice include many subfields that practitioners may specialise in:
Where do geologists work?
Increasingly, geologists work around the world, moving often as economic realities change.  Most geologists trained in South Africa these days end up working outside of South Africa for at least part of their careers.  In addition, geology is an applied science, and the laboratory is the earth, so successful geologists normally have a passion for working out of doors, often in weird and wonderful places. As a result, the typical view of the geologist is that they must be adventurous souls, must love the outdoors, being in the field and living a bohemian life. 
All of which may be true but is not an essential requirement, however.  Many geoscientists have successful, rewarding careers in laboratories, in academia, in R&D facilities and in offices and mines around the globe.  With modern advances in remote/virtual technologies, it is increasingly possible for the modern geologist to have it all, including a quiet family life, if that is what they desire.
What subjects should one take besides geology to become a successful geologist?
Because geology is such a diverse subject and geologists operate in a wide spectrum of applications, there is no unique set of complementary courses that should be taken or skills to be obtained to maximize success. Grounding in mathematics and natural sciences through university level courses is essential, and in many countries is necessary for professional registration to practice as a geology professional post-graduation. Proficiency In written and spoken English is essential, and for those working in many other parts of the world, extra language skills, particularly in Spanish, Chinese, Russian, Portuguese and French are extremely useful. Similarly, in this day and age, basic computer skills are essential in most jobs
If a geologist wishes to go into management or become an entrepreneur, skills in finance, management and psychology are useful. If a geologist wishes to go into tertiary education and/or research, familiarity with chemistry, physics, biology and mathematics are extremely useful.
Geology is taught in some South African primary and secondary schools within the geography curriculum.  In many other parts of the world, it is taught in its own right at these levels.  In South Africa and internationally, most professional geologists are educated at colleges, Technikons and universities.  Although in South Africa learners in tertiary education institutions are offered an exit BSc degree after three years, a four years or Honors degree is generally considered minimum to become a professional geologist. 
A PhD degree is normally required to work in tertiary educational institutions and research facilities.  In order to broaden their exposure to different people and ideas, learners are advised to take various degrees from different institutions.
Should student and professional geologists join professional societies?

In South Africa, in order to practice as a professional geologist, persons are required to register with the South African Council for Natural Scientific Professions (SACNASP), a statutory registration body. This body protects the public against dishonest practitioners.
The basic requirements for registration with SACNASP (as a professional geoscientist) is a four-year (Honours) degree and a minimum of three years' experience.  However, graduates without any work experience may register as Candidates and those with a three-year degree may register in the Certificated category.  Both Candidates and Certificated registrants my upgrade to the Professional (Pr.Sci.Nat) category as soon as they qualify in terms of qualifications and relevant experience.
Professional societies ("Voluntary Associations") such as the Geological Society of South Africa (GSSA), the Southern African Institute of Mining and Metallurgy (SAIMM) and the South African Institute of Engineering Geologists (SAIEG) provide student and professional members with various means of networking and staying abreast of advances in geology. Many other professional organizations exist throughout the world offering similar support.
"Where can you find more information about geology?"
The internet is a great place to start, and we can recommend some websites:
There are many other websites of universities and companies where you can learn about geology – but perhaps the very best way to learn is to speak to friends and acquaintances who are geologists.