12th International Kimberlite Conference (UPDATE)
12 IKC POSTPONED
15-19 August 2022
The postponement reflects the COVID-19 situation and resulting difficult times for the diamond industry together with the goal of maintaining the symbiotic mix of industry and academia that makes International Kimberlite Conferences unique. This change has the full support of the International Kimberlite Conference Advisory Committee.
The intention is to host the 12IKC at the same venues in Yellowknife, with the same scientific programme, field trips, short courses and social events, but delayed by one year.
Further updates will be available on the 12 IKC Bulletin Board as well as via the 12 IKC mailing list.
---
Registration and Short Abstract Submission open in August this year!
12 IKC Registration includes the Conference, a selection of Field Trips and for the first time Short Courses. A unique Social Programme and Accompanying Persons Programme are also offered.
12 IKC invites submissions for oral and poster presentations that align with the five conference scientific themes listed below.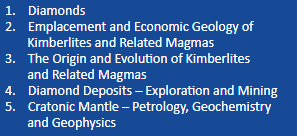 Submission of short abstracts requires conference registration with a minimum payment of a 10% non-refundable deposit of the fee.
Click here for abstract submissions