12th International Kimberlite Confrence
Registration and Short Abstract Submission open in August this year!
12 IKC Registration includes the Conference, a selection of Field Trips and for the first time Short Courses. A unique Social Programme and Accompanying Persons Programme are also offered.
12 IKC invites submissions for oral and poster presentations that align with the five conference scientific themes listed below.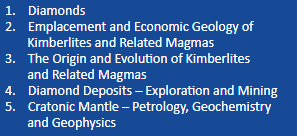 Submission of short abstracts requires conference registration with a minimum payment of a 10% non-refundable deposit of the fee.
Click here for abstract submissions