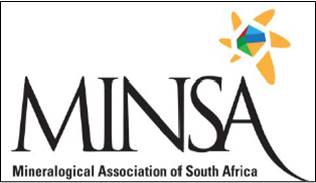 Email: minsa@www.gssa.org.za
LATEST NEWS
MINSA June crossword solution: Click HERE:http://www.gssa.org.za/wp-content/uploads/MINSA-June-crossword-solution-one-page.pdf
Second Call for Papers – MINSA Symposium
The Mineralogical Association of South Africa (MINSA) is looking for papers to be presented at its Symposium to be held on Wednesday the 23rd August2017 at the corner of Rustenburg and Carlow Roads, Melville, Johannesburg (new GSSA head offices). The symposium will take place from 09h00 to 17h00 with the MINSA AGM following thereafter.
Coffee/Tea break snacks, and lunch (and a finger supper for those staying for the AGM) will be supplied in the fee. This is an ideal opportunity for students to exercise their presentation and publication skills for their future careers. It is also the ideal opportunity for the quick diffusion of data and ideas amongst the more experienced mineralogical community.
Criteria
An abstract concerning mineralogy (applied, straight or otherwise), petrology and/or geochemistry is to be sent through to minsa@www.gssa.org.za by the 30th June 2017. Any format is acceptable with a maximum of 1000 words. Whilst not compulsory, a full paper may be submitted which the MINSA executive will attempt to assist in publishing in either the Journal of the Geological Society of South Africa or an IMA related publication (as per its mandate for "promoting the study and application of mineralogy, petrology and geochemistry" – section 1.3 MINSA constitution). Presentations will be between 15 to 25 minutes.
Keynotes
The two winners (Honours and Masters) of the MINSA bookprize for 2017 will be the keynote presenters at no cost for the symposium. Half an hour will be allotted for their presentations.
Summary
What: MINSA Symposium
When: Wednesday, 23rd August 2017
Time: 09h00 – 17h00 (followed by society's AGM)
Price: R50 (MINSA members, speakers & students); R200 (non-members)
Where: Cnr of Rustenburg and Carlow Roads, Melville, Johannesburg (new
GSSA head offices).